Domain Manager Plan Includes Free Email
Domain Manager Plan is a service offered by Website Web Hosting Services specifically for people, professionals, and businesses who need an identifiable email address but not a website.
Web hosting is a must if you want to develop a website. But what if you are a professional who wants a domain name that reflects who you are, your profession, the services you offer, but don't want the added cost of hosting.
The solution is the Domain Manager plan.
Domain Manager Plan In Action
Let's say you are a vendor at a farmers market. What would be more professional, an email address yourvendorname@yahoo or your name at the products you offer. For example, Matt@WoodenDecoys or Jennifer@JennsCreations.
Web hosting can be expensive. It is especially expensive if all you need it for is to get a domain name and email address to match.
Hence, our solution to support you who need a professional business or personal email address without the added cost of hosting is the Domain Manager Plan. No hosting, Sole Domain Name only.
What If You Want Web Hosting Later On
What if you want to develop a website later on; do you need to get a new account?
No. That's the beauty of the Domain Manager plan. The Domain Manager plan is the smallest of all the packages on our platform and it targets a specific niche – namely people who do not need or are not yet ready to commit to a fully fledged hosting account. But when they are, it is simply a matter of upgrading to a hosting plan. It really is that easy.
By-the-way, another possibility for the The Domain Manager plan is for users who want to lay their hands on an attractive domain name for a given future project before anyone does.
Up to this point, domain owners have only been able to register and transfer domain names and to edit some basic settings (Whois details, name servers, domain parking pages, etc.). An email address could not be associated with he domain name if there was no hosting. The Domain Manager plan changes all of that.
The integration of the emailing functionality takes the Domain Manager plan to a whole new usage level. It allows domain owners to send and receive electronic messages, i.e. to make actual use of their domain names. This way, domain name owners can have personalized email addresses for their individual or business needs right from the start.
Why Is The Domain Manager Option Important
The addition of the emailing functionality to the Domain Manager plan represents a great benefit for clients.
Key advantages include:
added value for domain owners
The Domain Manager plan-included email service gives domain owners the option to manage their emails through their registered account.
The plan eliminates the cost of hosting when domain hosting, building a website, is not necessary.
If, for example, a client is a freelance translator who does not need or even want to invest in a website for the time being, the client can register a domain (e.g. abc-translations) via the Domain Manager plan and add one, two, or even three mailboxes under that name (e.g. info@abc-translations). This way, the customer can conduct business under a professional name and be seen as more reliable.
upgrading to a hosting plan if and when ready
As a Domain Plan customer, as your business grows, you can upgrade to a hosting plan without impacting your existing email addresses. Best of all, there is no urgency or rush from our end to get you to add a hosting plan. This may sound a bit strange but we fully embrace that we are in the service business. That is, our business is providing for your needs when you are ready – not pushing you into services or products that you don't need. We work on your schedule.
What You Will See When Access Your Sole Domain Account
The new emailing functionality is available to all new Domain Manager plan users.
After you enroll, when you access your dashboard's index page, you will see a Mails icon.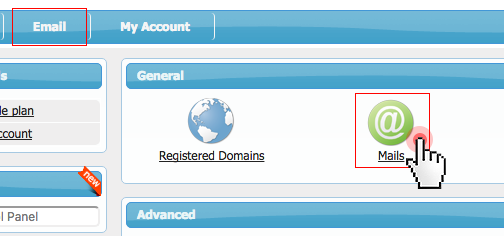 Clicking on it will take you to the Email Manager interface.
From there, you will easily be able to create mailboxes, to set up email forwarding, autoresponder messages, to create mailbox spam filters, and more.

How To Access Your Email
You can access your email inbox from anywhere there is an internet connection. And, yes, you can easily integrate your email inbox with Gmail, Outlook, and other mail service providers.
When you register for a Sole Domain, you will have complete easily to follow instructions plus 24/7 Support to assist you with the set-up of your email accounts. This same award winning support is available should you decide to upgrade to a hosting service in the future.
Summary Sole Domain Plan
The Sole Domain or Domain Manager Plan best meets the needs of sales people, professionals, and others who want an email address to reflect who they are and what they represent. What they do not want is the expense of web hosting. That may be a future consideration but not an expense they want at this time.
---